PDR Introduction in PDR Techniques and Preparation Work Modules
Paintless dent removal is not an easy set of skills to accomplish. Early on, people will struggle – some reasons being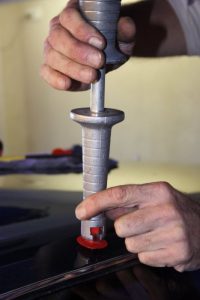 – you are putting metal on metal so friction wise it can easily slip
– you cannot see through metal and you are trying to see or feel your tool but you need to know where the tool is
– metal varies in gauge thickness and manufacturing components as well as steel versus aluminium
– the varying thickness means you require to vary the force or pressure applied to each dent
– types of dents or creases vary in size, depth, shape and stresses depending on how they were caused
– the wrong moves or over stressing can eventually damage the metal beyond repair let alone the paint may not be saved
Considering the difficulties observed above the first exercises in PDR is usually to work on a throw away bonnet (after these exercises it will need to be thrown away) and completing the finding the tip exercises. If you CANNOT see your tip, you cannot proceed onto the next step of pushing dents. Accuracy in knowing exactly where you are in relation to your tool and then the light is extremely important.
For this exercise, it is important to have a throw away bonnet (go to a panel beating place and they throw away these bonnets each week – ensure that the paint is good and still shiny and not dull or pealing off – even if the edge of the bonnet is damaged from a car accident etc – of course ensure you don't cut yourself on any sharp edges of the bonnet).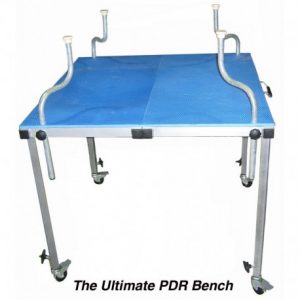 Following mastery of the finding the tip, we require to move onto the pushing the dent exercises and so forth as outline in the following modules.
0.00 average based on 0 ratings